COMMENTS...
Thank you Allan and your whole family for putting on another great steer wrestling clinic.

My family has attended at least one of Allan's clinics each year for the last 7 years.

Each year we come away with excitement about being better steer wrestlers.

So many young doggers Allan has help get it right to start with, we cannot thank you enough.


The Nelsen Family

Tyler Gaer, a former student, placing at the SD State 4-H Finals on a horse purchased from Good's Performance Horses. Allen Good hazing on Joe.




Brady Wakefield placing at a Nebraska High School Rodeo on "Bud" purchased from Good's Performance Horses
in 2008.

Hey Alan this is Marshall Allen from Grants NM - this was three weeks after I bought him from you - won a go round on him at the Navajo Nation fair - thanks again for your help
Just a quick note checking to see if by chance Allen may be attending the high school nationals in Rock Springs? This is Riley Rustad from Kindred,N.D. the newly crowned All Around Champion Cowboy in the North Dakota High School rodeo assoc. who qualified 3rd in steer wrestling with the help of A GOOD Performance horse bulldogging horse we purchased two years ago from you folks. His name is PREACHER you guys called him Paulie. He is 24 years old this year and still running strong!!!!! We will forward you a picture as soon as they come in from state finals. If Allen is available I would sure like it if he could haze for me at nationals, if not my Dad will, but he said if Allen Good is there that he would happily step aside. I think he gets a little nervous. Preacher is white or gray and he still has that nasty habit of biting at you when you cinch him up. He earned his name Preacher due to the fact that he is the most forgiving horse ever!!! We love him lots. I also qualified first place in the boys cow cutting and ended the year 6th in the tie down roping. That is all for now. Let us know if you could please.
Thanks alot. Riley
Allen this is just a thank you note. We bought an 11 year old sorrel gelding from you about 2 years ago site unseen. You had sent us a video of the horse and we bought him from that and what you had told us about the horse. I just want to let you know how the horse is doing and how pleased we are with him. Woody (as we call him) is doing great. Wyatt uses him two nights a week to practice and goes to rodeos on the weekends. They won our district high school rodeo and are headed to State. We have had a lot of people try to buy him but Wyatt won't part with him. I am also sending some pictures of him and Wyatt from his last rodeo. Again thank you for this nice horse and we will send anybody that is looking your way.
Thanks
Lynn Smith
I thought i would give you an update on header. I haven't missed a steer on him yet. I am going into state ranked third. I have 27 pts out of 30. He is doing great and hasn't let me down yet.

Thanks for the great horse.
Jerod Schwarting

HI Allen and Beth and family,
Just thought I would let you know that we have purchased Rudy from the Miller family. Our youngest of the 3 boys is using him and has done really well.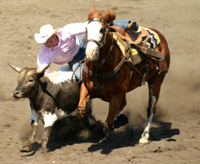 Danny and Rudy
Thanks - have a good summer
Deb
Tag is working out great i have taken him with me to a few rodeos but have not yet roped on him for money yet but plan to this weekend and at our state high school finals in a week.
Thanks for the great horse!
Travis Johnson
Hi,
I've been wanting to drop you a line forever, letting you know how much fun Tanner and Jack are having. A photographer got a great picture of them winning at Rapid City Manitoba that I thought I should share with you. Jack is doing fantastic, he's fit into the family very well. Of course the hazer is the great Neil Miller!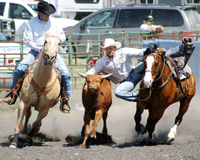 Hope to see you soon!
Bonnie Rutten
Hey Allen,
Just though I would email you and let you know that Butch and I went to the college finals last week and ended up placing 6th in the nation...we also set the CNFR arena record on my last steer(3.4) ...thank you for your help and setting me up with a great horse. If I get a good picture from the finals I will email it to you.
Justin Miller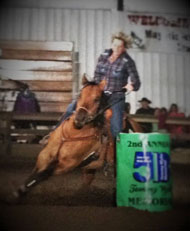 AG Tiny Polly (a.k.a. Bella), a mare sired by Joe, now owned by Judy Osborn Bortner. She is running in the 2D Barrel Racings currently and also running 22 second pole patterns.